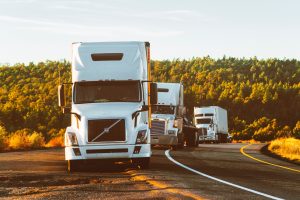 You may think that the process of obtaining an LGV license will be similar to what you went through when you obtained your standard driving license. How many differences can there actually be? It's true that some parts of the process are similar. With that said, the process of obtaining an LGV license is more lengthy and more complex. When you're obtaining a standard driver's license, you have to complete a single theory and practical test. For an LGV license, you'll need to take 4 tests, with two tests in each category. The HGV Driver Training Centre is a good start, but you'll need to prepare beforehand. Even applying for a provisional LGV license is slightly more complex.
Is an LGV License What I Need?
Prior to going over what you'll need to do when you apply, you'll want to make sure that the license you're applying for is the correct one. For example, you might be wondering whether you should be applying for an LGV or HGV license. If you're struggling with this decision, you'll be glad to know that both types of licenses are the same. LGV is an abbreviation for "Large Goods Vehicle" or "Light Goods Vehicle". HGV is an abbreviation for "Heavy Goods Vehicle". Both types of licenses will allow you to drive the same types of vehicles.
With that stated, you'll need to obtain 2 different forms in order to apply for your HGV license.
The D2 Form
This form is the application form that you'll need to complete so that you can apply for a provisional license. The application needs to be filled out and then submitted to the DVLA. This process is identical to the process that you would go through when applying for a standard driver's license, which means it shouldn't be difficult to figure out what you need to do. You can request this form from your training school or pick it up at the DVLA. The form shouldn't take longer than 10 minutes to complete. You'll be able to finish this step in no time.
The D4 Form
This form can be downloaded directly from the GOV.UK website. Alternatively, you can obtain the form if you pick up a D3 pack from the DVLA. No matter what route you take, you should be able to complete the form without any issues. With that said, the government website will provide you with additional information about what you need to do to complete the form. You'll fill out the first part of the D4 on your own. From there, you'll bring the form with you to a doctor's appointment. Your doctor can complete the second half of the form. Your doctor will perform a physical exam and use this information to complete the form. Once the form is filled out, it will be sent to the DVLA.
After both of these forms have been completed, they must be sent out so that you can apply for your provisional driving license. If there aren't any problems with your driving record, and there are no issues that crop up on your medical exam, you can expect to receive a provisional LGV license in approximately three weeks.
Of course, that doesn't mean you don't have to do anything for the next three weeks. While you wait for your license, you may want to start practicing for the theory test. You can prepare for the test even if you don't have your provisional license yet. If you take the time to prepare beforehand, you may be able to take the test as soon as the license arrives. This can save you time and help you to get your license even sooner.