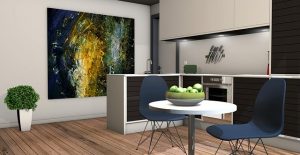 Serviced apartments are considerably more realistic and offer more benefits than staying up in a hotel. Whether traveling in the company of friends, family, alone, for leisure or business, a serviced apartment in Farnborough will make your stay worthwhile. Outlined below are some of the perks and benefits of going for a serviced apartment.
1. Space
A serviced apartment offers at least 30% more space than a standard hotel does. This gives you plenty of space and room to sleep, work, relax, and even prepare your meals. It is also worth noting that, a one-bedroomed serviced apartment is approximately twice the same as the average luxury hotel room.
2. Value for Money (Save More for Longer Stays)
The standard hotel charges at least 20% more than a serviced apartment of the same standard. You also do not have to worry about room service, mini, bars, and other hidden extras with serviced apartments. VAT also reduces to 4% on longer stays too. This thus allows you to save more money should you choose to stretch your stay. Many serviced apartment providers accommodate long-term bookings (Monday to Fridays) for corporate guests. You can, therefore, be assured of value for money and better savings with this option.
3. Location
Most serviced apartments are located at the heart of major cities and in/around many tourist destinations. You can also find numerous apartments within proximity to central business districts are well. It shouldn't take you long before identifying a strategically placed apartment fit for your needs especially if you will be socialising for work.
4. Flexibility
These apartments provide the flexibility you'd need during your stay. This means you can work at your timelines, prepare meals whenever you wish, and even hold business meetings within the private space. The apartment, therefore, doubles up as both your living space and conference room during your stay. Unlike hotels (where you have to pay to use their conference rooms), you never have to pay extra for the service.
5. Availability of Washing and Cooking Facilities
A serviced apartment is a home away from your home. You have everything you'd want in a home in the apartment. This means you can do your laundry and prepare meals at will. Most serviced apartments, at the very least, have communal laundries where you can wash and even dry your clothes. You, therefore, never have to pay anyone to do the washing for you. This is not only convenient for many people but also saves you some money.
6. Additional Services and Facilities
Most serviced apartments will even have extra services and facilities, including concierge, swimming pools, gyms, bars, and restaurants as well. Some of these services are far much better than what you'd get in a hotel.
7. Extra Services
Many service providers make it possible to make an order for personalised hampers, welcome parks, and other pre-selected items before your arrival or checking in. You can also have the items delivered after checking in. You can also bring in or order whatever drinks and snacks you'd like to have for the night or during your stay.
8. Quality Service
If looking for luxury and extra comfort, you can find apartments readily available with plush interiors, tip-quality furnishings, fully equipped kitchens, high-quality toiletries, bed linen, and towels. These provide more than just the boring box rooms you might be accustomed to with apartments. In addition to this, most of these apartments have top of the class entertainment facilities, including entertainment packages as well as Sky TV.
9. Free Wi-Fi
Most serviced apartments offer free Wi-Fi as standard for their clients. This is unlike hotels that will require you to pay a service fee for the same.
10. Meeting Spaces
As mentioned earlier, you can use the apartment space to host small business meetings. This can be done around the dining table, or even the living room if you like. The service provider might also be able to provide you with an onsite meeting room, and especially if looking to host a slightly bigger meeting.
11. It Is Very Easy to Make Bookings
Bookings can be made via booking agents or directly online.
12. Greater Degree of Privacy
Serviced apartments, unlike hotel rooms, provide greater privacy, hence ideal for those that don't wish to be disturbed. You can also request for reduced main service if looking for the utmost confidentiality.
13. Security
These apartments offer private and self-contained accommodation. Most of these have a secure entry, 24-hour CCTV, and security staff round the clock.
14. Home Away from Home
Hotels cannot give the same home experience as serviced apartments do. You have your kitchen, living space, and a bedroom. You also do not have to worry about a noisy neighbour across the hall.