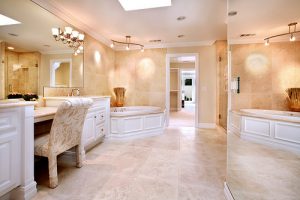 Choosing where to start your renovations can be a difficult decision. After all, you may have many home renovation ideas. As a homeowner, it is up to you to decide where you would like to start your renovations. Despite this, there are many reasons why you should start with your bathroom.
5 Reasons Why It Is Good to Start with Your Bathroom When Renovating Your Home
1. Will Increase the Value of Your Home
If you would like to increase the value of your home, consider upgrading your bathroom. In fact, renovating your bathroom should be your number one priority if property value is what you have in mind. When it comes to home renovations, kitchen and bathroom renovations are the two of the top renovations as they return more than 100 per cent of the renovation cost in home value. This is one of the best reasons for homeowners to consider kitchen or bathroom renovations.
2. Enables You to Use Space Efficiently
A bathroom renovation can be ideal for homeowners with small bathrooms as it helps them use every inch of their bathroom wisely and also make small bathrooms look larger than their real size. A contractor can help you rearrange your bathroom so that you can maximise your space.
For instance, you can remove the bathtub that you never use and, in its place, install a nice shower enclosure which takes up little space. In addition, some improvements such as a lighter paint colour on the walls of your bathroom and large mirrors can make your small bathroom look larger than it really is.
3. Saves Energy and Water
Toilet flushing uses the largest amount of water in most houses. Other bathroom fixtures that can waste water in your bathroom include the sink tap and the showerhead. When renovating your bathroom, remove these fixtures and replace them with plumbing fixtures that conserve water. Doing this will help you reduce water consumption in your home.
Apart from helping you save water, upgrading your bathroom can help you save energy. For instance, installing a tankless water heater for your bathroom can help you ensure that you always have hot water in the shower while conserving energy. Such renovations can help you get back the money you spend on renovating your bathroom. The renovations can also make your home eco-friendlier.
4. Can Help You Organise Your Bathroom
Having many health and hygiene products can make it hard for you to organise your bathroom. However, renovating your bathroom can solve this problem as installing cabinets, shelves and drawers make organising your bathroom easier. Choose custom cabinets as they enable you to maximise cabinet space. You should also consider installing a linen cupboard that will store your towels and other necessities.
5. Can Make Your Bathroom Beautiful
An outdated bathroom does not look appealing and needs to be renovated for it to look modern and attractive. If you renovate your bathroom, you will realise that you want to spend time in the bathroom as it will be more enjoyable than an outdated one.
If you are planning to renovate your home, it is good to consider starting with bathroom renovations. There are many reasons as to why you should consider renovating your bathroom. The reasons mentioned in this article are not the only reasons why you should consider upgrading your bathroom.
However, to enjoy the benefits of renovating your bathroom, look for the right contractor to do the job. Do extensive research when looking for a contractor to make an informed decision. Don't rush the process of looking for a contractor who will meet your needs. The same applies to luxury kitchens, of course.