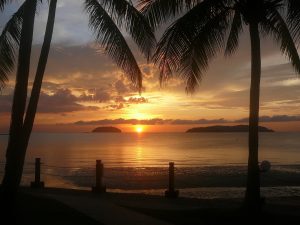 Borneo is in the tropics and this is why you can expect high humidity and rainfall any time of the year. Between December and February are the hottest months because this is when the Northeast Monsoon hits, while March to October are the milder months for travelling to Borneo. A highlight of a trip to Borneo is a Kinabatangan River cruise.
Below are some tips that will help you in planning your trip:
The Best Time to Visit Borneo Is…
From March to October is the dry season, and this is the time when you can expect to experience smaller amounts of rainfall. This makes it the peak time, and you will have the chance of seeing orangutans in the wild.
The best time for diving is from April to December. July and August have the best visibility – in some instances reaching 40 metres. If you want to see whale sharks, March to May is the best time.
If you plan on visiting Lankayan Island to see turtles, then the ideal months to visit are June to September.
When to Avoid
December and January are the months with higher rainfall and rougher waters. You can travel during these months, but the conditions are not great for wildlife; you might not be able to see them because they will be hidden deep in the jungle. Try your best to avoid travelling during December and January.
When to go by Season
The best time to go is March to October, the dry season in Borneo. The climate will be hot and humid throughout, and temperatures start rising when the season is ending and the rains are about to start. This is the optimum time to visit because the trees are fruiting, and this draws orangutans lower to the ground to eat. This provides you with the chance of seeing these wonderful creatures – and perhaps grabbing some snaps.
Unlike in other parts of the world, seasons in Borneo don't vary dramatically, and it is hot and humid all year-round. The dryer season tends to be busier, and this is why it is usually more expensive. You should be ready for rain at any time when exploring the forest because the rainforests of Borneo live up to their name.
March to October
This is referred to as the 'dry' season in Borneo even though it might rain at any time during this season, and it is hot and humid even during the summer. Between May and September is the peak tourism season, and accommodations can be booked in advance during this season, especially if it is a rainforest area such as Danum Valley, which doesn't have a lot of lodges, and this is why it is important to book early. This is also the best time to see Orangutans coming down to eat because of the fruiting during the summer months, especially between June and August. These primates like feasting on fruits; if they were able to, they could eat a diet made up entirely of fruits. You will enjoy your time watching Orangutans, especially when you plan your visit around these months.
November to February
This is considered to be the 'wet' season on the island, but you can still travel there during these months. The rain is very unpredictable at any time of the year, so the 'wet' season forecast should not be a big deal. Parks, lodges, attractions, and dive sites are less crowded, which can be a great thing for you. The prices of accommodation and flights will be lower when planning for the trip.