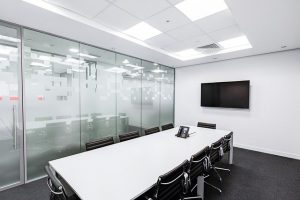 In the past, it was quite challenging for new businesses to get started. They would basically have to obtain the necessary money to lease commercial space at a good location. Then, they would have to purchase the required equipment, furniture and all the extra necessities in order to transform that space into an appropriate business space for their customers and employees.
Fortunately, these times are gone and there are now numerous office space options that you can choose from. These spaces already come with many of the things a new business would need. They are called serviced offices and they have become quite popular, especially for startup businesses.
There are many benefits of using a serviced office space and in this post we will dive into ten reasons why you should use them. If you are looking for a serviced office I would highly recommend that you see 'Antrobus House Business Centre'.
Location
The vast majority of businesses want to be located in a good location so that it is easy for customers and employees to access as well as to impress customers. Now, there are currently more than 2,500 serviced offices throughout the United Kingdom.
Affordable
If you start looking into serviced offices, you may feel as though they are more expensive in comparison to standard leased offices. With that said, you need to consider all of the expenses involved. You need to keep in mind the rent, utility costs, starting fees, business rates, the cost to purchase equipment and furniture etc. The great thing about a service office is that the fee you pay for one will cover all of these expenses and much more. So, in the end, serviced offices are a lot cheaper.
Flexible
When it comes to signing a lease for office space, in most cases the lease will be for between 3 to 10 years. This is definitely quite a long time and the chances are you don't know what will happen with your business so far into the future. Your business may potentially grow drastically and the business space would be too small. At the same time, your business may contract over that time and you could end up with a space that is too large and too expensive. Now, if you go with a serviced office, you will have a lot more flexibility. Basically, you can rent the office for however long you desire and you can choose to get a bigger or smaller serviced office whenever you want.
Completely Furnished
Serviced offices are fully furnished and this is certainly a huge benefit. It is particularly helpful since you won't need to buy your own office furniture which is not only costly but a hassle. Serviced offices will have everything you need such as chairs, filing cabinets, desks, kitchen cutlery and more.
Administrative Support
The cost you'll pay for a serviced office will also include administrative support. In many cases, you'll get internet, phone lines, reception staff, cleaners and more. Basically, all of the basic office requirements such as taking calls, filing and even basic correspondence would be covered by the fee. This will save you a lot of money and time. You will also get great support so that you can pay more attention to growing and scaling your business.
Get Started Working Asap
The unfortunate thing about moving offices is that there is typically a bit of downtime. This is necessary so that you can get all of your items packed up and moved to the office. You may need to take the time to get the utilities connected, buy furniture and have it delivered and set up, hire new employees etc. However, with a serviced office you won't have to do any of these activities since they would already be set up. All you'd need to do is move in and you can get started working as quickly as you desire.